FOOTLOOSE PODIATRY
Footloose Podiatry is a general podiatry practice, offering podiatry services in all aspects of foot care including orthotic therapy, paediatric foot conditions, diabetic foot care and assessments. It's Principal  Podiatrist Peter Ackland has been in practice in Toowoomba for 25 years. Podiatrist Sarah Bizzell joined the practice in 2015. Originally named Downs Podiatry Services and located in Margaret Street, the business changed location and name in January 2011.
We have also maintained our commitment to the Dalby community through Private Practice 2 days per week, visiting Monday and Wednesday. Our new Toowoomba location has enabled Footloose Podiatry  to further strengthen its  commitment to provide quality foot care to all age groups with all types of foot complaints.
---
PETER ACKLAND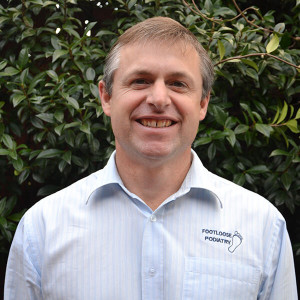 Podiatrist Peter Ackland graduated in 1994 from Queensland University of Technology and moved to Toowoomba in 1995 to commence work at Downs Podiatry Services with a long established podiatrist. In 1997 Peter decided that he wanted to remain in the town which he had grown to love and decided to purchase the business. He married a registered nurse who works part time in the pediatric department in the Toowoomba General Hospital and has 3 beautiful children who are keenly involved in representative sporting pursuits.
Throughout Peter's career, he has focused on maintaining a general podiatry service which has given him the pleasure of dealing with patients with varied foot complaints and medical conditions, from all walks of life, representing all age groups.
Having manufactured his own orthotics for the first 10 years of his career his is excited to see the advanced technological changes which are developing in the field of orthotic manufacturing which will provide huge improvement to patient outcomes.
Sarah Bizzell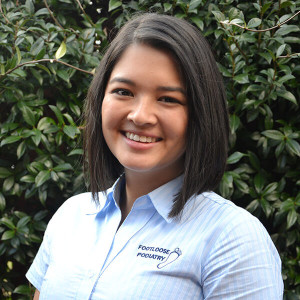 Sarah Bizzell graduated with Honours in Podiatry from the Queensland University of Technology in 2014. She has always wanted to work in the allied health field and she thoroughly enjoys the wide scope of practice for a Podiatrist. Sarah values the opportunity to help many people from kids to their grandparents, caring for their foot function or attending to their nails.
Sarah has a keen interest in the biomechanics of the foot and lower limb. Previous work as a footwear assistant for Amart Sports allowed her to engage with runners and sportsmen of varying abilities and appreciated the challenge of finding the right shoe for customers specific needs.
Sarah is passionate about educating patients on their condition, to enable them to work together toward good foot health. Additionally, she is an advocate of early intervention, and prevention of complications associated with chronic disease, particularly diabetes.
---